Where trend meets care.
Posts tagged "organic"
The Kids Table series hopes to inspire you with dishes that are both creative and fun for everyone in your family! From toddlers to parents, food can be made fun and healthy with food from your garden, local grocery store, or farmer's market!
Colorful flowers and clear skies means more time for kids to soak up the sun and get their exercise on! After all the play-time, they may just want to come home and have dinner ready for them. However, after a little rest and relaxation, pick up their spirits with a fun spring-themed meal!

Edible Flowers?

Did you know that you can edible flowers to not only decorate your meal but to actually eat? Not all edible flowers taste like vegetables. In fact, different types of flowers have different tastes. According to homecooking.about.com, bean blossoms have a sweet and bean-like flavor. Nasturtiums have a wonderfully peppery flavor similar to watercress and their pickled buds can be substituted for more expensive capers. Borage tastes like cucumber, and miniature pansies (Johnny-Jump-Ups) have a mild wintergreen taste. Violets, roses and lavender lend a sweet flavor to salads or desserts. Bright yellow calendulas are an economic alternative to expensive saffron, though not quite as pungent. Other flowers may have a spicy or peppermint flavor.


When in doubt: taste. First, be sure it's not poisonous.


Flower Power Food

What food adventures do you want to try next with your family? We would love for you to share your recipes or experiences with us on our Facebook Page or our Twitter!
                               Caring for Your Baby's Sensitive Skin
                                              renaissancemama.com
A baby's skin can be hard to manage.  At first, it can be hard to tell how to treat your baby's skin because it's new testing ground! How will his/her skin react to fragrances? Will I need hypoallergenic lotions or soaps? There are so many questions to ask, but it only takes a little bit of experience, and a test and learn method to help answer any concerns.    
As always, be sure to consult your pediatrician about best practices with your baby.
The Early Months
sheabuttershop.co.uk
In the early months, avoid using crèmes, wipes or soaps that contain fragrances. Since a baby's skin is very sensitive, think of simple ways to care for it.  By thinking simple, we mean, think about the basics.  Using just simple, pure lotion that is free of parabens, additives, and potential irritants or allergens will make lotion all that much simpler and better for your baby.
With that in mind, check the labels!  Knowing what's in the product that's going on your baby's skin will help to ensure that the product is hypoallergenic or otherwise.  Look for organic, natural products that are free of synthetics and chemicals. 
 A Cleanse

                                                    naturemoms.com
Going backwards now, before you put lotion on baby you may have bathed him/her. When washing your baby, be sure to use water that is at a lukewarm temperature.  If the water is too warm or hot, your baby can develop dry, itchy skin, and fast.  When it comes to baths, make it quick: between three to five minutes and about three times a week since babies tend not to get as dirty as their older counterparts (us!).  Just as it is when you're looking for natural and/or organic lotion, look for mild soap or fragrance free cleansers.  In the first few months however, lukewarm water and a really soft cloth or cotton balls will do as well.     
After a successfully quick bath, be sure to towel down your baby so they are absolutely dry. When washing, don't forget to clean behind the ears, in between the fold of skin and in between fingers and toes as well.  Same goes for when you're drying your baby! Follow up in these areas with a fragrance free lotion that we talked about earlier.
In Between
For in between baths, be sure to check out our previous article on diaper bag essentials for a recipe on homemade wipes! Speaking of diapers, rashes can occur in between washes or soon after you put a diaper on your baby after you've bathed them.  To steer away from diaper rashes, powder and petroleum jelly can help avoid irritated skin.
A diaper pail like the diaper champ deluxe can help you get rid of those stinky diapers quickly, and will help your baby feel refreshed in a new, clean diaper.  Its odorless characteristic will keep your baby's nursery smelling divine and can stay there for a while since it holds up to 30 diapers.
Although ADORABLE, clothes or fabrics can sometimes be irritating. Make sure fabric is breathable and won't make your baby too hot or too cold.  Fabrics or outfits that are 100% cotton can help to keep your baby's skin irritation free.
Enjoy your baby and their soft, glowing skin!
Green Baby
Buying organic food has become a big proponent of moving towards a healthier lifestyle.  Although this may be a great decision for adults to make for themselves, it may have different consequences when it comes to your baby. With that in mind, if you chose to breastfeed your baby; it is advised that you wait until your little one is five to six months of age before feeding them solid food.  In any case however, be sure to check with your baby's pediatrician on correct feeding habits before switching to an organic diet.     
Soft to Solid: The Benefits of Organic Food

Upon the introduction of organic food, there has long since been a debate about its supposed health benefits versus the health benefits of non-organic food.  For the longest time, all organic food had going for it was its label but recent studies are starting to prove that organic food really is more nutrient rich and possibly, a healthier option for your baby. Here are just a few other benefits of organic food found on live-the-organic-life:
Organic baby food, whether made at home or bought in-store, is produced without genetically modified ingredients

Organic baby foods are produced without conventional pesticides, antibiotics, or growth hormones

A baby's digestive system is not as up to par as an adult's when it comes to excreting harmful substances

Babies' bodies are much more vulnerable to pesticides because their brains immune and detoxification systems are immature and in a state of development
What makes food organic?
Foods that meet the U.S. Department of Agriculture's standards can
be labeled with the "USDA Organic" seal.  Their definition of organic is as follows: Organic is a labeling term that indicates that the food or other agricultural product has been produced through approved methods that integrate cultural, biological, and mechanical practices that foster cycling of resources, promote ecological balance, and conserve biodiversity.  Synthetic fertilizers, sewage sludge, irradiation, and genetic engineering may not be used.
Varieties
When reviewing your organic baby food options however, there are some general things to take note of: read labels, examine how food is packaged, compare it to similar baby foods, and carefully check expiration date and food safety.  Note that when looking at the nutritional information, the first ingredient in the list is the majority of what that food is comprised of.      
Regardless of which of the following types of food you pick, feeding your baby and making food with your baby in toe is yet another bonding experience. Once you've picked a food, enjoy time with your baby while they sit in comfort in a High Chair!
 When it comes to specific types of baby food, the following guidelines as provided by organic-baby-resource may help: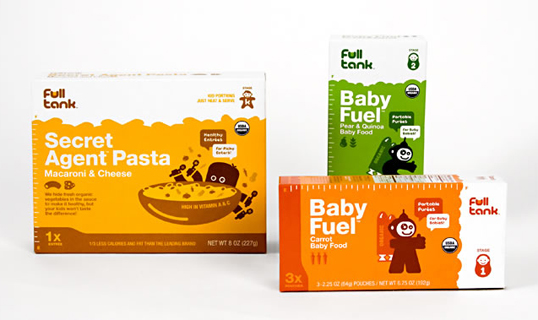 Frozen Organic Baby Food
Freezing in fact, is a natural preservative that locks in nutrients and natural pigments of the food.


Jarred Organic Baby Food

Be sure to look for jarred food that does not contain chemical additives, added sugar, or salt, and look for the food-to-water ratio as well. 

Home Made
When buying produce to make your baby's food, buying organic fruits and vegetables with the USDA organic sticker on it is a start.  Be sure to buy organic ingredients, puree your food, and refrigerate up to three days or freeze them to last you several months.
All In All
Parents go organic or don't go organic based on their own decisions.  Every type of diet has it's own benefits and cons but either way, be sure to check with your baby's pediatrician on best feeding practices for your little one.  It may even lead to some changes for yourself or your whole family!